Latest news :
June 30, 2001

Well this time it's decided, my website is to become an online portfolio in wich I will be putting up my personnal and professionnal works. No more tutorials to come as I'm building up a big community site concerning the professional aspects of the graphics industry (print and web). It will be in french and should soon open up here -> http://www.netgraphiste.com
Febuary 17, 2001

Finaly I got around to finishing my first winamp skin :o)
Download it here. (104 kb) or go to downloads page.

Still lots of website work going on, so I won't be updating for a little while (2-4 weeks). Hope to see you then :o)

Speaking of the next update, please tell me what you'd like to see next.
Click on the link(s) below to send me an email with your choice(s) :
more tuts | more backgrounds | more skins | a forum |
polls to influence me :o) | I was kinda of thinkin' of sumpthing else...
January 30, 2001

Sorry for not updating lately (again). I've been real busy building up a new website for the company in wich I work. This includes graphic design, coding and setting up a local server to hold our client files. check out a pic in the projects section.

2 more website projects are on the drawing board, chock full of neat-o graphics and php/MySql coding, news on that should be up in a little while (just don't hold your breath...).

Still planning on entirely revamping this website, but too much to do for now. I think it will finaly be in both french and english. Design will almost surely have nothing to do with what you can see below...
December 26, 2000

I hope everyone had a great xmas !!!
Winamp Erkalanium skin is 90 % complete... soon up for downloading :o)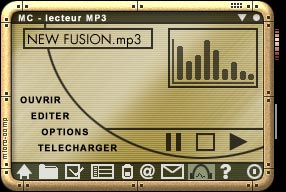 November 22, 2000

New 3D wallpaper to download :o)
November 21, 2000

I've been churning out backgrounds for a few days as I'm playing with new ideas and techniques. Grab a new one.
To the left : a quick interface I made for a french contest on one of our biggest community sites : www.graphinews.com, check it out !
November 18, 2000

Yet another piece of wallpaper in the Downloads :o)
November 11, 2000

Small update - new associate : 38net check him out and say hi for me :o)
November 3, 2000

Site revamp is on the back burner for a little while. Here's a new piece of wallpaper for you :o)